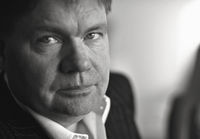 MIKAEL BISTHER
CHAIRMAN OF THE BOARD
JESSICA FORENIUS
EKONOMICHEF/CFO
My vision and experience combined with an excellent team of employees have played a crucial role in promoting PQR Group Companies to be one of the top-rated companies in Europe. We are a global Consulting Engineering Firm with offices in Europe, South America, and North America. We have engineers and technical specialists with diverse expertise in three continents who can work with all types of projects and be a valuable team member to our clients. We have completed more than 10 000 projects with successful results worldwide since our establishment in 1984.
PQR is one of the primary engineering-consulting firms in the international market. As a complete installation-consulting firm, PQR's confidence along with measures we implement will take us closer to our goal of being an international leader.
PQR started in 1984 in a small office in Stockholm with two engineers who believed in hard work and vision for a different consulting firm. The current Chairman of the Board, Mikael Bisther, had joined the company in 1986 and became the fourth employee of PQR. Today, PQR has grown exponentially and has offices in Europe, South and North America. We contribute our growth and success to our continuous commitment to education, training, mentoring, and retention of new talent.
As a professional engineering consulting firm with an up-to-date and advanced trained team, we can provide affordable, suitable, and environmentally conscious solutions for our clients needs while achieving new heights in excellence.
We value the collective abilities, technical skills and continuity of our team members. We understand the importance of a strong corporate culture and the power of teamwork in producing results for our clients that are innovative, efficient and constantly of high quality. We also believe in committing to the same ideas we encourage for our clients, 4Rs of environmental protection. We practice energy, water, and carbon emissions reduction, reuse, reduce, and recycle.
Today, after 30 years, more than 10 000 completed projects and long list of satisfied clients, our core beliefs have not changed. Our primary objective is to develop, execute, and maintain projects on schedule, within budget, and with a forward-looking operational excellence.
MESSAGE FROM CHAIRMAN OF THE BOARD
As one of the leaders in MEP engineering consulting, our goal has been to improve clients' return on investment by providing the best economical solutions to fit their needs. Our long list of satisfied clients includes many distinguished names in the business world that many engineering consulting firms would be proud to have.
Our Innovative team has been known internationally for their creativity in the field of Green Energy and has earned many prestigious awards. We have grown our services to include fire protection, lighting design, acoustics, energy use analysis, planning and technical design.
We have expanded our presence into North America, Europe and South America. We will be opening more International Offices in the near future to achieve our goal as a world-renowned engineering consulting firm.
I have no doubt that our teams eagerness to succeed will help us to achieve and surpass our goals.
Mikael Bisther
Chairman of the Board